⇛ Supporters
Calendar of events
(Switch to text-only "list" view which is best for printing.)
A.I.M. Vancouver General Meeting
(British Columbia)

3rd Thursday of every month, 7:00 PM
ABC Restaurant
Unit 101 - 15373 Fraser Highway
Surrey, B.C., Canada
604.580.0112
Send us notification of your event for this calendar. We will also gladly display most posters. Posters are acceptable in the following formats: JPG/JPEG, GIF, PNG (minimum width of 500 pixels required)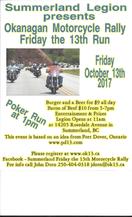 Okanogan Motorcycle Rally [full printable version]
Friday the 13th @ Royal Canadian Legion, Branch 22, Summerland, BC. Poker Run @ 1pm with Show n Shine afterwards. Poker cards $ 5. Proceeds to BC Cancer Foundation. Entertainment, prizes, etc. Beer & Burger = $9 all day. Baron of Beef $10 from 5pm - 7pm. Register: www.ok13.ca. Contact: Facebook - Summerland Friday the 13th Motorcycle Rally. Info: John Dorn, 250-404-0318, or jdorn@ok13.ca.
A.I.M. HELLRAISERS DANCE [full printable version]
7pm - 1am @ Sangam Palace, 11267 - 125A St., Surrey, BC. Door Prizes. Food Sales 8pm. Fundraiser Dance to support A.I.M. Tickets $ 15.00. 604-580-0112 or info@aimvancouver.com.
Gospel Riders Christmas Dinner [full printable version]
Wednesday, Dec 6, @ 5:30 pm. Eagle Ridge Gymnasium, 1160 Lansdowne Drive, Coquitlam, BC. Everyone is welcome - bring the little ones too! Info Dan 604-377-8769
Events, posters, and other information presented within this calendar are, to the best of our knowledge, true and accurate; although we make a genuine effort to provide accurate information about third party events, you are ultimately responsible for verifying the information to rule out the possibility of errors, omissions, and unexpected changes or cancellations.