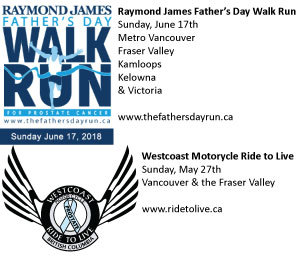 Event:
Westcoast Motorcycle RIDE TO LIVE Ride
Date:
Sunday, May 27, 2018
Sunday. Starting locations @ Trev Deeley's in Vancouver & Mountainview Harley in Chilliwack. End celebration at the University of the Fraser Valley includes BBQ lunch, BC Motorcycle Drill Team, entertainment, bike displays, vendors and more. $ 35 to ride with option to fundraise for Prostate Cancer Foundation BC and ride for free. Info: www.ridetolive.ca.
This event listing is provided as a courtesy to the motorcycling community by the Association for Injured Motorcyclists (AIM). For more information about AIM, or to suggest an event that should be included in our calendar, please visit our web site at: http://www.aimvancouver.com/calendar/